Save over 85% during Christmas Town at the Creation Museum's Dragon Hall Bookstore!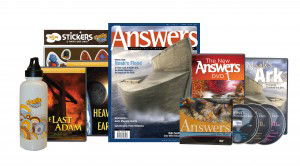 The "Christmas Town Gift Box" includes nearly $150 worth of resources from Answers in Genesis for only $19.99! The box includes 7 DVDs from AiG, the "Ark" issue of Answers Magazine, and some goodies from Charlie & Trike.
This offer is only valid during Christmas Town hours at the Dragon Hall Bookstore. For more information about Christmas Town-including hours and directions, visit creationmuseum.org/christmas.