A report from Stephanie McDorman, Creation Museum Registrar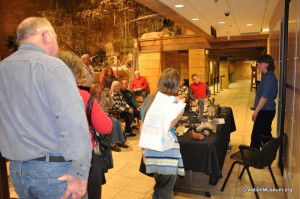 I'm looking forward to helping out with the next Behind the Scenes event.  I get the chance to pull out some of the museum's collection to show guests fossils and other specimens that currently sit unseen in storage.  I will also share some of the exciting stories of how the Lord has brought together collectors and the museum to both provide what we need for the exhibits and to work in individuals' hearts.  Only God can simultaneously change an individual's heart in a profound way while setting up something that will impact over a million people—bringing glory to His name in big and small ways.  I have the privilege of witnessing His work and sharing in the joy that giving prized possessions to the museum brings in people's lives, and it is a pleasure whenever I can share that excitement with others.
If you come to the event, you will also be treated to a small glimpse of some of the specimens for a future exhibit that will inspire wonder and awe for hopefully another million plus museum guests.  I hope you will be a part of this special behind the scenes evening.  You will probably see the museum in a whole new light after hearing about some of the work that was done to bring it all together.
The cost for this exciting evening is only $14.95 (additional household members are just $9.95) and you can add on dessert for only $6.00.  The registration deadline for dessert tickets is September 24.  Call (800) 778-3390 to reserve your spot today!