UPDATE: This event is full and we are accepting no further reservations.  Please watch for information about future events.
Calling all museum members and annual pass-holders!  On Friday, October 8, we're planning an event just for you.  At 6:00 as the museum is closing and everyone else is going home, you can stick around to enjoy an evening of fishing, picnicking in the gardens, and taking a ride on Gomer the camel.  We'll also have a campfire burning, so don't forget the hotdogs and marshmallows. Here are the details: 5:30 – 6:30    Check-In 6:00 – Dusk    Fishing 6:00 – 9:00    Campfire and picnicking 8:00 – 9:00    Camel Rides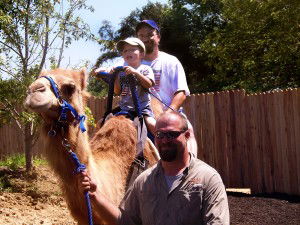 This event is open to all current museum members and annual pass-holders.  There is no charge to attend, however, there will be a small fee of only $2.00 to ride the camel.  You may bring a picnic dinner to enjoy in one of our covered pavilions throughout the gardens, and you're welcome to bring some hot dogs and marshmallows to roast over the fire. All participants 16 years or older must have a valid Kentucky fishing license to be permitted to fish.  A temporary Kentucky fishing license may be purchased online from the
Kentucky Department of Fish and Wildlife
. Keep an eye out on our website for more "members-only" events being planned, including a sneak preview of our popular Christmas presentation coming up in December!