A report from Dr. Georgia Purdom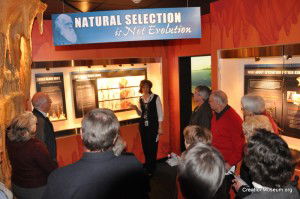 I'm thrilled to be a part of the next Behind the Scenes event on October 1st at the museum.  As a research scientist and speaker for Answers in Genesis I enjoy interacting with people of all ages and helping them understand the importance of the authority of God's Word from the very first verse.  I will be responsible for helping guests understand the "Natural Selection is Not Evolution" exhibit.  This is a perfect fit for me as I served as a design consultant for the exhibit and have authored many articles and given many presentations on the topic of natural selection.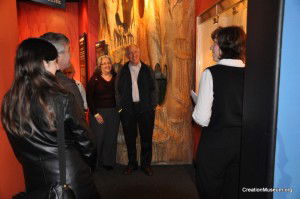 I'll give guests some insights into the physical design of the exhibit, including why collaboration is such an important part of designing an exhibit.  For example, my "stuffed" bacteria idea is a prime example of why designers with art degrees and expertise are needed. (To find out more about this funny story, you'll have to attend!)
I will also discuss why this exhibit was so important to open in the so-called "year of Darwin" (2009) and why it is important to clarify the differences between evolution and natural selection.  I'll use some examples from the exhibit specifically antibiotic resistance in bacteria which is often purported to be an example of "evolution in action."  I hope to see you there.
The cost for this exciting evening is only $14.95 (additional household members are just $9.95) and you can add on dessert for only $6.00.  The registration deadline for dessert tickets is September 24.  Call (800) 778-3390 to reserve your spot today!