Calling Actors, Actresses, & Production Crew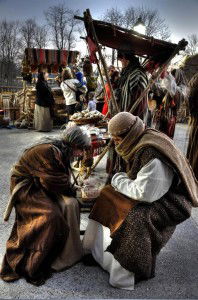 Do you want to be involved in this years Christmas production at the Creation Museum? If so, then please let us know right away.
Save the Dates:
December 3, 4, 10, 11, 17, 18, 27, 28, 31 and January 1.
Please let us know what dates you can/cannot commit as soon as possible so we can put you into the right position. As things continue to develop, we will then let you know when casting and rehearsals will begin. If you can help with sewing costumes, making props etc. please let us know that as well as we have already started this process.
Click here to open a PDF document.  Just fill out the application and fax to 859-727-5415 with your availability.
If you volunteered last year and already completed the form then simply e-mail us with that information and your availability.  You don't need to fill out the form again.