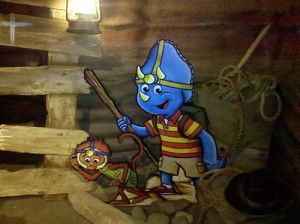 Two new "explorers" have been sighted recently at the Creation Museum as a part of the newly opened "Kneehigh Exhibits." These fun-loving characters are Charlie, a curious, adventurous monkey who doesn't understand the Bible, and Trike, a wise dinosaur who tries to explain it to him.
With spade and lantern in hand, Charlie and Trike will show our younger visitors (ages 5–12) that the Bible can be trusted as the true, inspired Word of God. Using the existing museum space, the Kneehigh museum (along with these lovable characters) presents children with the groundwork for excellent teaching points that will enhance the museum experience for you and your young ones.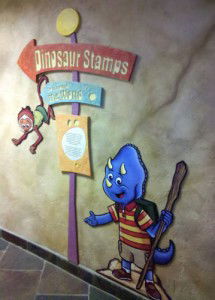 We chose to use these charming and imaginative characters (of course, animals don't talk!) to engage young people to learn that humans did not evolve from a common ape-like ancestor, but were created in the image of God. And Trike? Well, dinosaurs are usually used as a tool to teach the "millions of years" belief, but we've taken back dinosaurs at the Creation Museum!
As you plan your visit to the Creation Museum, be sure to acquire a copy of Charlie and Trike's first book, Charlie and Trike's Grand Canyon Adventure, now available in our online bookstore and at the Dragon Hall Bookstore at the Creation Museum. This beautifully illustrated, highly interactive learning tool will fascinate children of all ages, and parents and teachers alike will enjoy the incredible adventure, which is brought to life with pull-out features, maps, flaps, and a panoramic three-page canyon drawing! (This large format book has thick, durable pages with many fun "sercrets" kids love.)