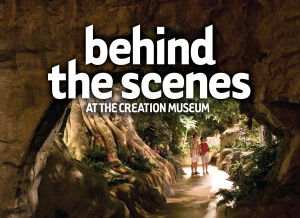 This October you can experience a unique opportunity to explore the Creation Museum by going behind the scenes!  Whether you're new to the Creation Museum or you've toured many times be prepared to see the Museum in a whole new light.!
The will take place on Friday, October 1 following the close of the Museum at 6:00.  First you'll hear a thought-provoking presentation from Ken Ham, president and CEO of Answers in Genesis USA, exploring the origin of the Creation Museum.
Next you'll proceed through the Museum's Walkthrough Biblical History where you'll encounter artists and experts.  Along the breathtaking Creation Walk you will meet one of the artists who worked on the Museum's design.  You'll also enjoy a presentation from Dr. Georgia Purdom in the Natural Selection exhibit and hear from Creation Museum registrar Stephanie McDorman who manages the museum's collection of fossils and many other artifacts.  You can also enjoy delicious dessert for a small additional fee.
The cost for this exciting evening is only $14.95 (additional household members are just $9.95) and you can add on dessert for only $6.00.  The registration deadline for dessert tickets is September 24.  Call (800) 778-3390 to reserve your spot today!