Double-mindedness: Its Impact and How to Overcome it!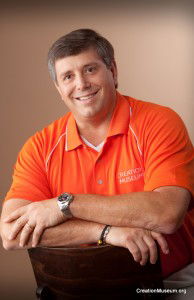 The church is losing its next generation at an alarming rate.  Anywhere from 50 to 88 percent of the young people raised in Bible-believing Christian homes walk away from the church after age 18.  In this new talk Carl examines the causes of huge exodus, but then shows that by starting with the Bible, solutions can be offered to this massive problem in the church.  Teaching just Bible stories to our children isn't working; young people in our churches need to know how to stand uncompromisingly on the authority and accuracy of the Bible so that they can answer the skeptical questions of the age.
Presented at 3:00 on this Thursday and Friday (August 19 & 20), this presentation is part of the Museum's Answers Speaker Series and is free with Museum admission or membership. Seating is first come first served, so you'll want to arrive early to make sure you can hear this engaging presentation. The son of a professional wrestler, Carl Kerby was raised in a liberal church and was steeped in the ways of the world. But the Lord used a "chance" encounter with two creationist pilots to change his life forever. Carl is a former air traffic controller, who has now become one of the most dynamic creation speakers in America, passionately proclaiming the authority of God's Word from the very first verse. To learn more about Carl Kerby please click here.