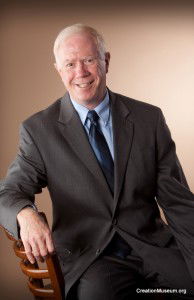 In this highly relevant presentation Mike Riddle covers the foundations of the American education system along with an examination of Scriptural warnings about false teachers. He pinpoints the location of the battleground and how the education system was taken over—but he will not leave you there. Mike also tackles the tough question of the proper solution to this nationwide problem.
Presented at 3:00 on Wednesday, May 26, this presentation is part of the Museum's Answers Speaker Series and is free with Museum admission or membership. Seating is first come first served, so you'll want to arrive early to make sure you can hear this engaging presentation.  Over the years, Mike has become much in demand as a creation speaker, including as an adjunct lecturer with the Institute for Creation Research. As a former world-class athlete in the multi-event decathlon, and a former Marine, it's not surprising that Mike is also versatile in his "creation evangelism" efforts.  To learn more about Mike Riddle please click here.
Keep an eye on our Events Calendar for more upcoming talks. Just this week you can hear excellent speakers like Dr. Terry Mortenson, Bodie Hodge, Carl Kerby, and Dr. Georgia Purdom!