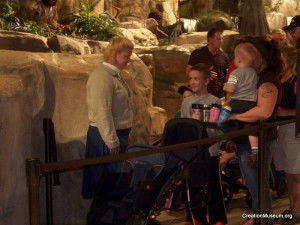 Over this past year, I have had the privilege to meet people from all over the world – all interested in meeting Ken Ham, the president/CEO and founder of Answers in Genesis-U.S. and the Creation Museum. The wide array of people coming to meet Ken starts back 16 or more years ago when they first heard him speak and then there are those who have just learned of him a couple of weeks prior at an event or even heard him speak at the Creation Museum.
My name is Amy and I stand at the head of the line to ensure everyone who wants to meet Ken has the opportunity to do so. Some of the fun things I get to see and hear from people are stories of how they grew up listening and learning from Ken and now are introducing their children to him. Other stories people have shared with me have been amazing – just to hear how the ministry has been such a blessing to their life and their families. I have also heard stories of how people were introduced to the ministry through some of our materials. One man learned of the ministry through a DVD that had been given to him and another heard Ken on the radio. So many people coming from overseas have phenomenal stories of how they came to learn of the ministry and how they are utilizing our materials today in their own ministry.
It is also great to hear how people have enjoyed their visit to the museum and learn what area of the museum they liked the best. Most kids enjoy the Dinosaur Den, others the Petting Zoo and many like sharing how they got to create a spider or make a fossil necklace in one of our workshops. There are many guests who have planned their trip to the museum around this particular event.
One of my favorite Meet Ken Ham sessions took place just a couple of months ago. There was a school group from Atlanta, GA that had been at the museum for the day and when Ken came out to the Main Hall they were so excited to see him. At one point I could only see Ken's head because the group had gathered around him to ask questions about some of the things they had seen and also shared some things they enjoyed about their museum visit. Many of them shared with Ken that they had grown up on his books and videos. They were a very refreshing group and I do believe Ken enjoyed his time with them.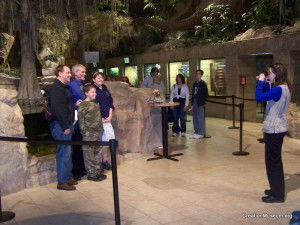 Ken provides each family with a DVD of his personal testimony and signs it for them. He also signs books, other DVDs, pictures, tickets and he has even signed a couple of shoes for some kids. It is always fun to see and hear the excitement people have when they get to meet Ken for the first time and share with him how he has taught them so much through his lectures, books and DVDs. We even have a staff member available to take pictures with the guest's camera. Who knew there were so many different cameras out there along with the cameras in cell phones?
Ken is not in the office that much since he goes out to speak the majority of the time, but when he is in he does his best to have time to go out in the museum to meet our guests. He enjoys hearing where people are from and how they heard about the Creation Museum and the ministry of Answers in Genesis.
Who knew standing at the beginning of the line greeting visitors from all over the world would be so rewarding. I really hope to meet you one day as you wait in line. The next opportunity for you to meet Ken Ham will be this Thursday at 4:00. Keep an eye on the Creation Museum's events calendar for more upcoming dates.