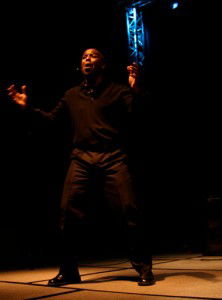 On June 14 the Marquis Laughlin will be visiting the Creation Museum.  Marquis Laughlin is a performance artist whose life's work is enabling audiences to hear, see, and feel the God of the Bible, through the words of the Bible.  He brings the story of God's foundational relationship with mankind to life as his uniquely compelling dramatic solo Scripture presentation covers selected portions of Genesis 1-22.  From the creation of the world, the fall, and the flood, to the destruction of Sodom & Gomorrah and Abraham's sacrifice you will experience the epic story of God's relationship with man.
Marquis maintains an active touring schedule, and his one-man shows have been presented all over the world. Recent works include Mark's Gospel at the Forum of Trajan in Rome Italy, and John's Gospel at the Hampton Court Mid-Summer Festival in Hereford England.
This presentation takes place at 12:00 on Monday, June 14.  It is free with paid museum admission or Museum membership. You can learn more about Marquis Laughlin at his website.