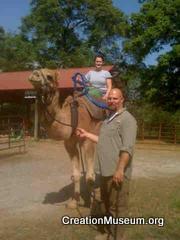 Our beloved camel, Gomer, is back from "school" right now.  He was training for a new job: giving rides.  We do not know when we will actually begin offering rides, but eventually, after he has completed his training and our in-house trainers have also learned the ins and outs of camel rides, we hope to offer this experience for guests.
Gomer's education took place with specialized trainers in the south, where many other camels have been trained.  Graduates of this school at Pettit Creek Farms now give rides in many places throughout the United States and even in Aruba.
Gomer is off to a great start.  After just a few days in training, Gomer had already carried two riders four miles.  He also quickly gained a reputation as the best tempered camel they have ever worked with!  We knew he was special!
Gomer is also getting his first custom-fitted saddle.  Camels can use several types of saddles.  We will use a platform saddle, which is commonly used for commercial camel rides.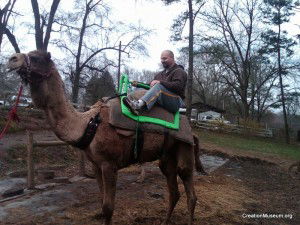 Ever since Gomer came to the petting zoo, we have envisioned offering camel rides one day.  But we had to wait for him to grow up.  Camels are not usually ridden until they are six years old, when they are considered adults.