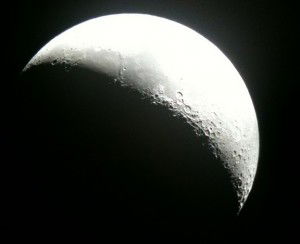 A full slate of Stargazer's Nights has been scheduled for this summer.  These amazing evenings feature breathtaking glimpses of the night sky through the Creation Museum's own telescopes.  This year's programs will be on May 7, June 11, July 16 and August 12.
Each evening begins with highly relevant devotions from Dr. Lisle and a viewing of his first program (Worlds of Creation) that he developed for the planetarium. It presents a wonderful trip through our solar system including views from the surfaces of our moon and from Mars.  After the program Dr. Lisle will spend some time going over of helpful tips and suggestions for viewing celestial objects through the telescopes.
Depending on the month you will be able to see many different sights in the night sky.  Many evenings the moon makes for a dramatic picture along with binary stars, globular clusters, planets, and other stellar sights.
If the skies are cloudy Dr. Lisle will stay inside to lead a unique teaching session utilizing the state of the art digital projector and domed ceiling of the Planetarium.  You'll be able to travel through time and perhaps even see the North Star that Noah would have seen.  You may even catch a glimpse of what the stars look like from the South Pole.
Either way this will be a one-of-a-kind journey through the cosmos that you will thoroughly enjoy and not soon forget.  Tickets are only $14.95 for adults and $9.95 for young astronomers age 12 and under.