On Friday, February 12, the Creation Museum held its first Behind the Scenes event since the Museum opened.  While this tour didn't include a trip through construction zones like the pre-opening Behind the Scenes tours the evening featured conversations with people involved in the construction and design of the Museum.  Before the first event of the evening guests were treated to a selection of photographs showing various phases of Museum construction.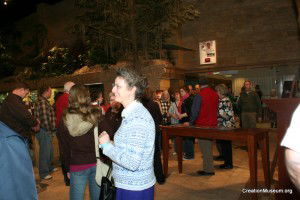 At 6:00 event participants were treated to a talk from Ken Ham, president and CEO of Answers in Genesis and the Creation Museum.  Ken spoke about the history of the Creation Museum and laid the ground work for the evening's presentations from various Museum artists and experts.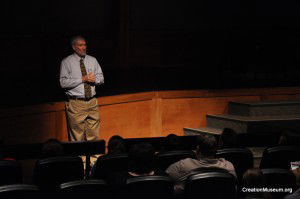 Travis Wilson, one of the Museum's artists and designers spoke to guests on the Creation Walk, next to several animals that he helped to design.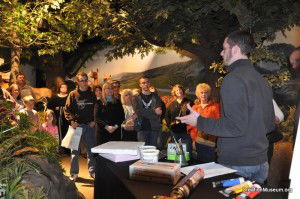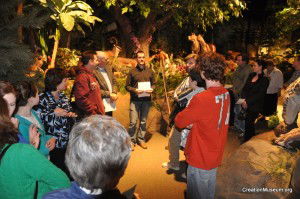 Stephanie McDorman, Creation Museum registrar, had a table full of artifacts and fossils.  She has been working for years to categorize and organize the Museum's collection and has many interesting stories to tell.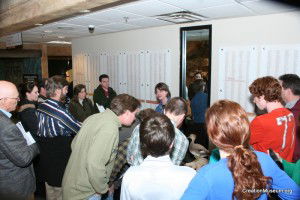 Dr. Georgia Purdom was on hand to explain the Natural Selection Exhibit on the Museum's lower level.  Because of her Ph.D. in molecular genetics Dr. Purdom was one of the main sources for information behind this exhibit.  She will be the first to tell you that it was a collaborative effort, though her part is quite interesting.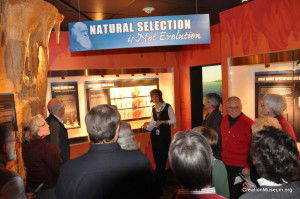 Finally guests got to enjoy stories from Buddy Davis, who sculpted many of the dinosaurs within the Creation Museum.  Buddy and his wife Kay both took time out of their week to relate many exciting tales from his history--including his early days of dinosaur sculpting.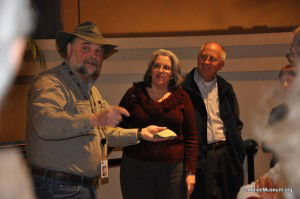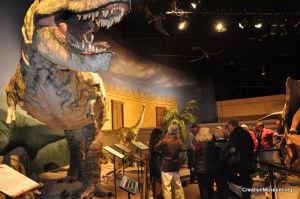 The evening concluded in the Wonders of Creation Room with dessert and Q&A with the Museum's Dr. David Menton.  Many guests told us that they had visited the Museum several times before but never had they realized "all the details that were involved."  We hope that you'll consider joining us again if we repeat this event.