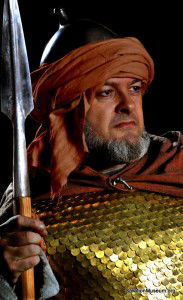 The Temple Guard presentation first seen during the 2009 Christmas season will be returning to the Creation Museum for Easter. 
The Temple Guard: A Life Transformed
is the story of a life transformed from shame to hope.  You will travel along with a Temple Guard on the road to Bethlehem, as he marches to fulfill the orders of the evil King Herod to assassinate the child born "King of the Jews."
This character is portrayed by Deks Nordquist, a man very familiar with the ancient Roman world.  Deks' attention to detail and familiarity with first-century Israel is readily apparent in his portrayal of the Temple Guard, Hyam.
The tale of Hyam's long journey is a gripping account wrapped up in the historical events surrounding Jesus' time on earth.  Though serving King Herod Hyam wonders if this child could possibly be the long awaited Messiah.  Could he be the Anointed One who would free Israel from Roman bondage and bring a time of everlasting peace and joy?
On Good Friday, April 2 two showings of The Temple Guard will be presented.  Tickets are only $2.00 (or $10 per family) for this drama so relevant to the hope of the Easter Season.  We hope that you will experience the power of God's truth as Hyam's heart makes a journey through guilt and despair to find hope at last in the most unexpected end.
The character of Hyam, the Temple Guard, is fictional, but his story is based on first-century Israeli history and grounded in the historical events of Scripture.  Hyam's testimony mentions some of the violence surrounding Jesus' time on earth.  No graphic images are shown, but the content is very serious in nature.