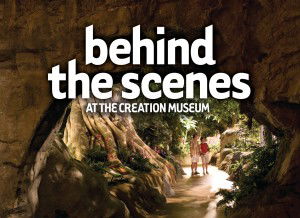 Whether you're new to the Creation Museum or you've toured many times be prepared to see the Museum in a whole new light.  On February 12 you will experience a unique visit as you embark on a fascinating journey behind the scenes of the Creation Museum!
This will not just be an evening at the Creation Museum, you'll be learning from those who helped to build the Creation Museum.  The evening will begin at 6:00 with a thought-provoking presentation from Ken Ham, president and CEO of Answers in Genesis USA, exploring the origin of the Creation Museum.  Next you'll proceed through the Museum's Walkthrough Biblical History where you'll encounter artists and experts.
In the amazing two-story Dinosaur Den you'll hear from sculptor and paleo-artist Buddy Davis.  Along the breathtaking Creation Walk you will meet one of the artists who worked on the Museum's design.  You'll learn about fossils, natural selection, and more over the course of the evening.  The evening will conclude in the spacious Wonders Room and an engaging presentation from Dr. David Menton.  You can also enjoy delicious dessert for a small additional fee.
The cost for this exciting evening of exploration is only $14.95 (additional household members are just $9.95) and you can add on a gourmet dessert for only $8.95.  The registration deadline for dessert tickets is February 5.  Call (800) 778-3390 to reserve your spot today!