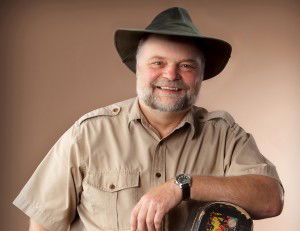 There is still time to sign up to hunt for dinosaur bones with Buddy Davis!  Although the July dig is full, we have several spots available for our September 2010 dig in Glendive, Montana.
Dig Details:
Date—September 13-17, 2010
Location—Glendive, Montana (in the Badlands)
Leaders/instructors—Buddy Davis, dinosaur sculptor for the museum, musician, and popular AiG speaker, will assist with the dig and provide exciting programs in the evenings for everyone on the dig team.  Buddy has been on many dinosaur excavations, including one on the North Slope of Alaska.  The Foundation Advancing Creation Truth (FACT) will provide a team of experts, including FACT Director, Otis Kline, as well as all of the equipment necessary for a professional dig.
What to expect—We'll get up early each morning and head out to the dig site together.  We will excavate parts of a Triceratops skeleton, but we may also find baby Triceratops bones, broken off T. Rex teeth, crocodile teeth and scutes, Edmontosaurus and raptor bones.  Lunch will be provided at the site.  We'll head back to the hotel early enough for everyone to clean up before dinner, which will be served in the hotel conference room.  The evenings will be full of fellowship, worship, learning and fun, as we enjoy special programs provided by Buddy after dinner.
Additional activities—In addition to the dig, we'll make time for a trip to a local state park to see some of the natural wonders of the area.  We will also get to visit the Glendive Dinosaur & Fossil Museum, a new museum focusing on creation in Glendive, founded and operated by FACT!
Lodging—We recommend that participants stay at the Comfort Inn in Glendive.  It will be the staging area for transportation to the dig and other destinations as well as the location for dinner and the evening programs.  The hotel provides breakfast for guests. (Lodging is not included in the cost of the dig.)
Fees—
Creation Museum members:      $835*
Non-members:                          $925*
(includes lunches and dinners, transportation while in Glendive, use of tools, instruction on excavation techniques, visit to local state park, visit to Glendive Dinosaur & Fossil museum, and teaching and music by Buddy Davis)
Registration—
Register at www.regonline.com/dinodig2010-sept.
To reserve a spot, you will need to pay $125 in advance.
*Fees are subject to change.