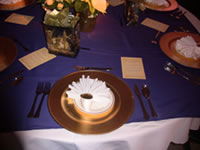 Plan to join us for an amazing feast as the Creation Museum celebrates the birth of our savior. This Christmas we are offering not one but TWO opportunities for you to include the Creation Museum in your Christmas plans!
The evening will begin in one of our lovely dining rooms as you enjoy a delicious, catered dinner featuring Carved Top Round of Beef, Creative Signature Chicken, and gourmet dessert. Don't forget your coats as afterward, you'll want bundle up to enjoy our dramatic outdoor Live Nativity and tour our amazing Garden of Lights.
The cost for the dinner this year is only $25 per person, but you must reserve your place by December 1. Call today to reserve your table at 800-778-3390.