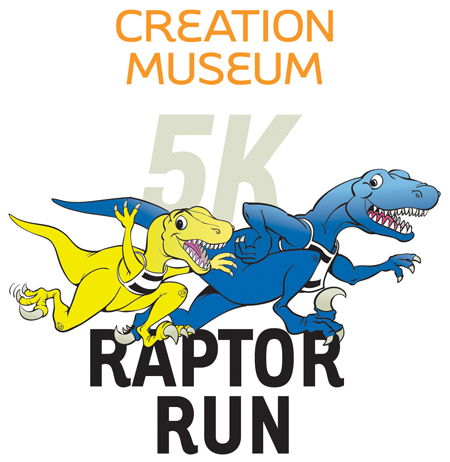 Do you like to run? Plan to come to the Creation Museum for a one of a kind experience. The Raptor Run has been scheduled for October 17 at 8:00 AM! It will be a good time for young and old alike, whether you are sprinting towards the finish line or walking towards it with a group of friends.
Be a part of something unique as you come to the Creation Museum to experience the Raptor Run! The Run will start at 8:00 in the morning, which gives you plenty of time to experience all that the Museum has to offer. The 75,000-square-foot Creation Museum will be open until 6:00 in the evening with much to experience. You can listen to our informative Answers Speaker Series or check our Events Calendar to see what other programs are on the schedule.
Registration for the Raptor Run is $25. This includes a unique shirt, a snack, and free admission to the Creation Museum that day. Late registration (after September 25) will be $35 and will be available until 7:30 AM on October 17. Please visit the registration site for easy on-line registration.