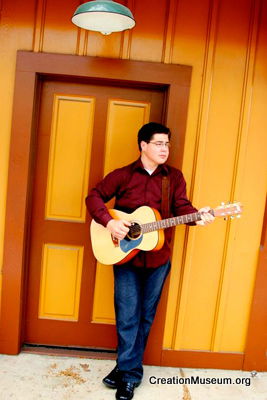 Guitarist Ben Owens will be visiting the Creation Museum this month.
Ben looks at his guitar playing as "a way to honor the God who gave me my life, my talent, and my salvation. I play lots of hymns and originals. My style is heavily influenced by the great Chet Atkins whom I've been listening to my entire life. Chet was without a doubt one of the most amazing guitarists of all time. He was probably the most influential guitarist to have ever lived. He helped develop the style of guitar where one plays the bass, rhythm, melody, and harmony all at the same time using the thumb and fingers. This style is what allows me to play completely solo, without the assistance of a band."
A talented musician, Ben is volunteering his time to play for Creation Museum guests during the rest of July. When you visit the Museum during the week be sure to listen for Ben and his guitar. Learn more about Ben at his website.