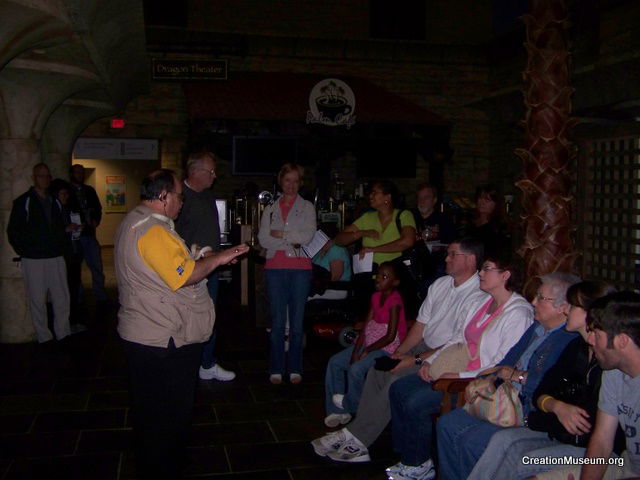 Early in the afternoon on Wednesday the Creation Museum abruptly lost electrical power. As the lights went off and emergency lighting came on Creation Museum staff members swung into action.
Several Guest Services staff members headed into the Biblical Walkthrough History with flashlights to assist guests. One staff member, Stan, was helping to guide guests down to the lower level when he had an idea. Once the guests were gathered together in the Palm Plaza he asked if he could go get one of our snakes and conduct an impromptu workshop. A crowd began gathering to listen as soon as he brought out the albino corn snake.
You may remember reading about Stan and our Snakes Alive program where he frequently assists herpetologist Rick Teepen. With his many years of animal experience Stan was able to answer many questions and provide guests with an exceptional experience.
At the same time Buddy Davis was conducting his Creation Adventure Workshop It's Designed to Do what it Does Do. He didn't let the power outage faze him either as the children gathered around his computer so they could see the words to his songs. They continued to sing and have a great time. They were even able to make both of their crafts and not miss anything.
Thanks to all of the staff who made what could have been a trying experience instead a memorable time for our guests.