We are approaching the first days of spring here at the Creation Museum and we have had some beautiful weather. This past weekend the temperatures climbed into the sixties and seventies. Museum guests certainly enjoyed the warmer temperatures as they explored the nature trails and the Petting Zoo. The botanical gardens have also been getting attention, especially after a good rainstorm like we saw this past Sunday evening. Some flowers are just starting to appear.
This past week we also saw the arrival of a large group of youth volunteers. These dedicated young people served in several places throughout the ministry, but many of them were engaged in helping our Grounds Department. This week saw a large delivery of mulch, and our volunteers helped to spread it throughout the botanical gardens and planters.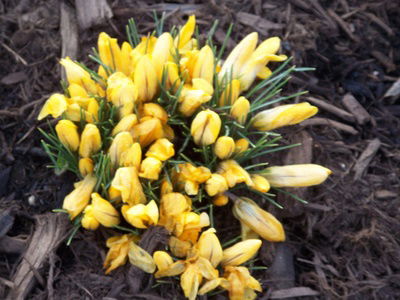 Be sure to visit the museum this spring and enjoy a stroll through the beautiful botanical gardens. You won't want to miss seeing the blooming of the more than 100,000 bulbs that have been planted over the past three years.