And he is truly willing to serve! Jim Shultz came all the way from Massachusetts to help the Creation Museum for one full week. After spending Sunday experiencing the museum for the first time, Jim arrived Monday morning ready to work.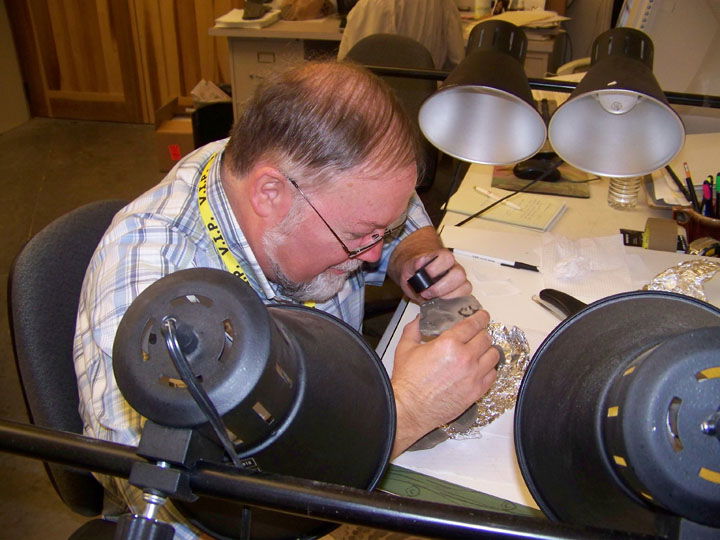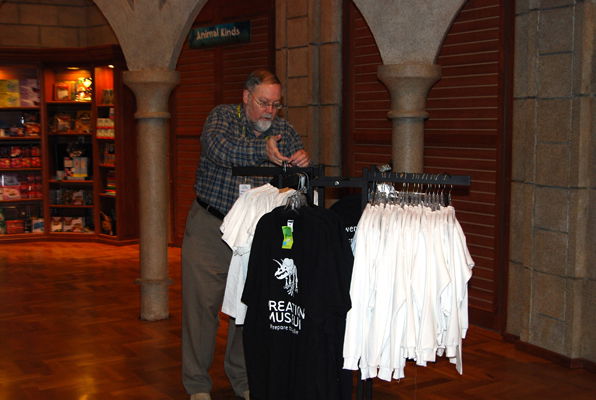 He volunteered to help me in the museum collections room, but I couldn't set up training time until Monday afternoon. Determined to make himself useful, Jim came to the museum Monday morning and saw that the bookstore was being moved back in after having the floor refinished. He rolled up his sleeves and got to work! Rose, assistant manager in the bookstore, told me how impressed she was that he did not consider any work beneath him, even though he's a geologist. He moved shelves, dusted mugs, and more.
When I found him Monday afternoon, he was shopping for some resources. But as soon as he saw I was ready to work with him, he put down his shopping basket and was ready to go. We had already talked about what he could do while here. In fact, he had purchased two books on the Mazon Creek so he could prepare for the job before coming. You can read about the museum's Mazon Creek fossil collection in an earlier blog.
With that same humble spirit, Jim volunteered to help set up for the Evening to Remember banquet and even serve the meal this evening. I suspect it will be a much-needed break from the fossils, which I have a feeling he'll get back to on Saturday since he doesn't fly home until Sunday.
I think Jim is enjoying himself. In fact, he's already started talking about when he might be able to come back and bring his wife. Dr. Andrew Snelling, AiG's Director of Research, who is also a geologist, is talking to Jim about how he can continue to put his expertise to use even after he goes home, possibly doing some research and writing about the Mazon Creek. We're not shy about asking for help around here! There is plenty of work to be done, and we know that those who give will reap a reward of blessings from God, so there is no reason not to ask. Many thanks to Jim and all of the volunteers who make a difference here.
Written by Stephanie McDorman