Local herpetologist Rick Teepen leads the ever popular Snakes Alive workshops. If you've seen a snake but never leaned in for a closer look this program will be a fascinating eye opener.
Have you ever looked at reptiles from God's perspective, remembering that even snakes were created by God? Creation Museum staff member Stan has been doing it for years. Stan has been working with the Guest Services department of the Creation Museum since it opened in May of 2007, but he has a long history with museums, and with reptiles.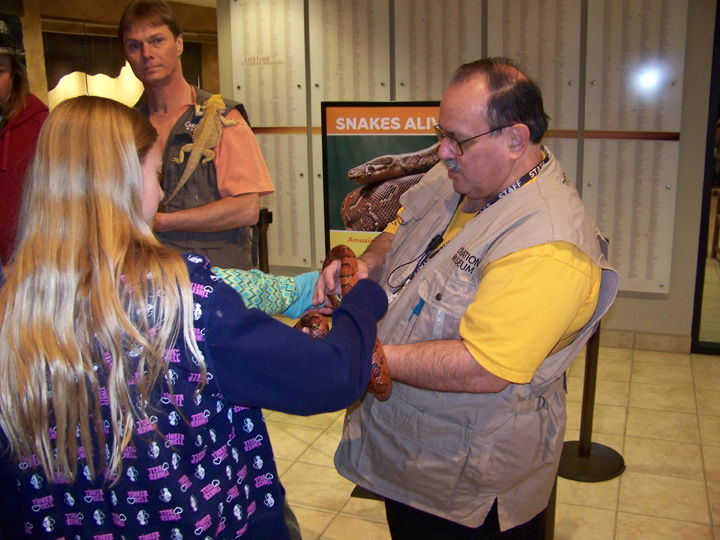 For 14 years Stan worked at the Dayton Museum of Natural History as a tour guide and nature instructor, teaching about many subjects. Stan admits that he has "always been fascinated by what most people would call the creepy crawlies, snakes, spiders, and insects." He has kept many reptiles in his home and even served as a reptile Merit Badge counselor for the Boy Scouts. Now each time the Snakes Alive! program comes to the Creation Museum Stan is always there.
Rick brings two lizards and eight or more snakes with him to each program. After Stan helps set up the room and bring the animals into the Museum a fascinating day of programs begins. As Stan hands him each animal Rick explains all about these amazing creatures and how they relate to God's Word. At the end of the program guests can even take their picture with one of the reptiles and ask questions.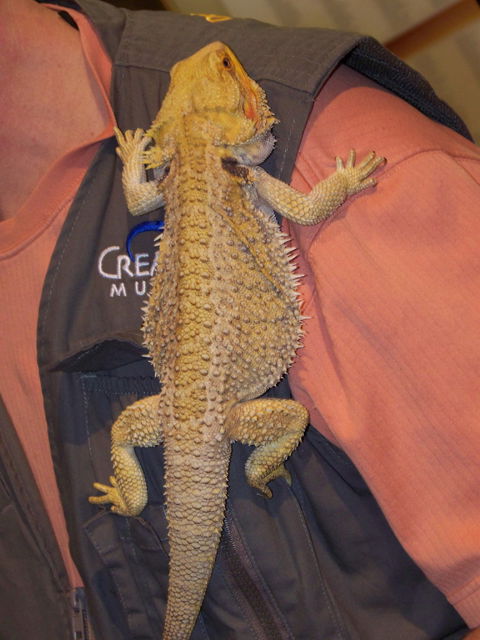 During the day you might see Rick and Stan wandering through the Museum with some of their critters. They know once you see these amazing examples of God's creation you'll have to come in for a closer look. Tickets for Snakes Alive! are only $2.50 and the next full day of these programs is this Saturday, January 24! Be sure to check our Event Calendar for more information about this and other exciting workshops at the Creation Museum.
Families Blessed by Free Museum Admission on Christmas Eve
We recently received this feedback from a large family who came together from Indiana, Ohio, and Washington to take advantage of the Creation Museum's gift of free admission on Christmas Eve.
"We were blest by your 12/24/08 gift to visit Creation Museum. For so long I'd looked forward to it that I feared being disappointed. We were delighted, taught, encouraged, and humbled! Our two children, spouses and combined 13 grandchildren toured with us. How honoring to God and His Word! Our favorite was the Noah's Ark area. Even the three-year-old has memories. Thank you! May God continue to bless you! All the staff were so courteous. We noticed the visitors, too—polite, orderly. I observed no pushing in lines. God changes 'human nature', doesn't He?!"

—D.D. from Rossville, IN
We were blessed to be able to open our doors to the community! We look forward to welcoming your family to the Creation Museum soon.
"Answers" Month at the Creation Museum
February is "Answers" Month at the Creation Museum. Be sure to check out our Event Calendar for workshop and speaker information. When you purchase a 2 Day Pass during the month of February, you'll get admission FREE for the entire month!