Recently, two of our Guest Relations staff members got engaged.
Adam and Jen often joke about the time when they "weren't talking to each other." Of course, they did talk to each other at work; they just didn't really notice each other until several months after they met.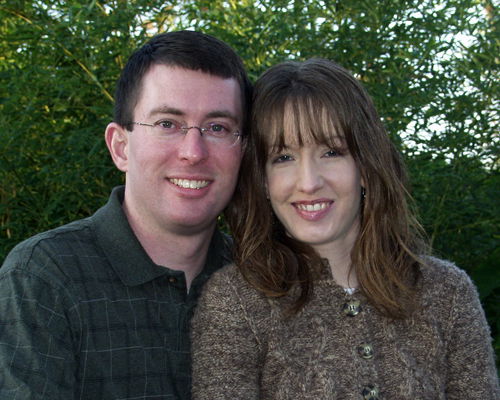 Adam grew up on a farm in southern Ohio. Prior to coming to the Creation Museum in April 2007, Adam was working in Nashville, TN. Jen grew up in Ottawa, KS, where her parents used Answers in Genesis resources to teach her the importance of believing in Biblical Authority. She joined the Creation Museum staff about a month after Adam - just 1 week before the museum opened.
Adam and Jen did spend some time together with mutual friends from the museum on group outings throughout the summer. However, neither of them was interested in a dating relationship - both were just excited to be serving the Lord at the newly opened museum.
By early fall they found themselves talking and writing back and forth regularly. They realized that they had a lot in common and were enjoying getting to know each other.
When they "officially" started dating, the response from all of their friends was "What took you so long?" And when they became engaged recently, the response once again was "What took you so long?" It seems that everyone else could see how well they fit together long before they did.
Adam and Jen are looking forward to what God has in store for them in the future as they begin a new season of their lives—as husband and wife.
We are so happy for Adam and Jen, and look forward to their wedding next month!