Creation Pioneer, Dr. Gary Parker, will give two talks at the Creation Museum on Thursday, October 9. (Read the full article on the Answers in Genesis website)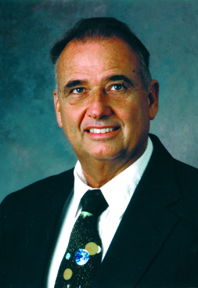 Dr. Gary Parker, considered to be one of the finest creation speakers of the past 30 years, will be giving special science lectures at the museum. His talks are fascinating and highly entertaining—and full of Dr. Parker's trademark humor.
The talks (which are free for ticket holders and museum members) on October 9 are:
* 12:00 noon—"Fossils and Florida: Evidence for Noah's Flood" (Dr. Parker and his wife Mary operate a creation museum in Arcadia, Florida, with all kinds of fossils on display.)
* 3:00 p.m.—"Genes and Genesis: Evidence for Creation"
Here is a unique opportunity to learn from a creationist pioneer (and a former evolutionist, who once wrote widely used textbooks on evolution) as he gives his superb talks. Then pick up a copy of his excellent book Creation: Facts of Life in our museum bookstore and have him sign it for you.
Find out more about this exceptional communicator (his talks are for suggested ages 12 and up) on his biography page.