As work continues on the nature trails this spring, the plants and animals at the museum site have been making their presence known. Blossoms of lilac bushes, honeysuckle and black cherry have filled the air with a wonderful fragrance. Other plants, including American plums recently planted, will contribute not only their fragrance but also fruit, which will serve as food for local wildlife.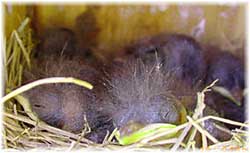 Birds are especially evident around the lake, singing throughout the entire day as males establish their territories for the nesting season. The bluebird boxes put up last year have attracted nesting pairs again this year! Over 70 species of birds have been documented at the site since the beginning of last spring.
Some notable species heard and seen often this year include warbling vireos, kingbirds, Baltimore orioles and orchard orioles. Baltimore orioles build an incredibly complex, hanging, pendulous nest and are beautifully patterned in orange and black. These and other birds will be encouraged to visit the bird feeding stations along the trail so guests can enjoy a close up view and learn about the marvels of flight in birds and the fallacy of dinosaur to bird evolution, which is widely taught as fact in other museums.
Three species of turtles, six species of frogs and toads, raccoons, deer, muskrats and fox squirrels are among the other types of wildlife observed on the museum site. Heavy emphasis is being placed on landscaping with native plants to attract as many types of local wildlife as possible.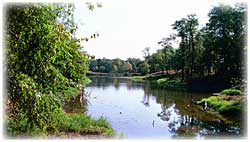 An area of particular interest along the trail encircling the lake will be the hummingbird and butterfly garden. Here guests will learn about these fascinating creatures and how to attract them to their own gardens. As with all teaching areas at the museum, the point is not be to prove that creation is true but to show that a person's worldview affects his interpretation of the observable facts. Furthermore, it will be shown that the facts make more sense when interpreted through a Biblical framework rather than an evolutionary one.
Life is certainly in abundance at the museum site this spring, and our nature trail work continues to make the property even more appealing to local wildlife. Most importantly, however, is the abundant life that people have the opportunity to receive as a result of Christ's ultimate sacrifice (John 10:10). The whole museum experience will challenge non-believers to accept Jesus Christ as Savior and Lord. Please continue to pray as work continues on the museum and consider additional ways, either financial or through your time and services, that you may contribute to this God honoring project.
Double Your Money! - Museum Nature Trail Matching Gift
Recently a Kentucky mens group was so excited about the potential impact of the Museum's Nature Trails concept that they offered $17,500 as a matching gift to help raise the material costs for the trails. Thanks to their generosity your gift toward the Nature Trails can immediately double in its effectiveness! This $35,000 target amount will go a long way in securing the materials needed to begin construction of phase I of this unique creation trail complex. To be a part of this effort please designate your donation for nature trail. To donate online, click here and enter nature trail in your donation comments.