One of our long-time Deaf volunteers, Eric, has recorded a new video to tell our Deaf guests about Deaf Day coming up in just one month!
Deaf Day is an exciting event that features Deaf volunteers and ASL interpreters providing live interpretation of presentations such as The Last Adam. Hearing guests are also invited, of course, and we expect you will enjoy watching the expressive communication of American Sign Language during the shows and throughout the museum.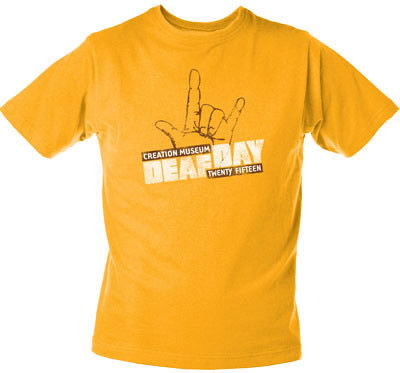 This year we have some exciting new additions including a special Deaf Day t-shirt that can be pre-ordered online. Also, don't forget that Deaf presenter Calvin Farley that will be presenting a special talk titled "Why Genesis Is Relevant Today."
What if you're an ASL interpreter? We have a special class for you! Come to the museum a day early on October 9 for our special interpreter workshop The Creation Museum: The Big Picture. For only $40, you can enjoy complimentary admission to the Creation Museum valid for both Friday and Saturday, so you can come early on Friday and preview the museum. You can also enjoy an insiders' look with Deaf Day coordinator Stephanie McDorman at 3:00 PM and a special showing of the Planetarium presentation Created Cosmos at 5:30 PM.
So make your plans now to join us for Deaf Day at the Creation Museum on October 10, 2015!