The following is from Ellen Bauer, a supporter of our ministry, when asked about her recent trip to the Creation Museum.
I was born into a Christian home. My father was a Lutheran pastor and he constantly preached "Creation, Creation, Creation." Evolution wasn't taught as much when I went to school as it is today, but I remember having long serious debates on my dorm floor in college about this issue. Dad would send me long letters explaining the importance of Creation and just how "foolish" evolution was. Sadly, my father passed away at the age of 50 of a massive heart attack. He had a strong influence on my life. He has been gone 50 years and I think about what he taught every day.
My parents were very poor. I am the oldest of four girls. Dad served small congregations in northern Minnesota and many times those churches didn't have the money to pay his salary; but he left his family a legacy that is priceless. As a family we lived very close to the earth. We had a huge garden, a few pigs, chickens, and two cows for milk. We all worked hard, but there never was any money. But we never thought we were poor; we thought we were rich. We enjoyed the "wonders of God's creation."
I got married to Roger Bauer who is an accountant. We raised our family of two girls. About the year 2000, we saw on the internet that a Creation Museum was being built in Kentucky. We followed the building of it and in August 2007, we took a vacation to the Smoky Mountains area and included a day at the Creation Museum. I was SOOOOO impressed. I told my husband, "Next time I am bringing my friends."
After talking to our pastor he encouraged us to put a bus trip together. Our first trip was in June 2008 and it was a major learning experience. We had never done anything like that before. We learned a lot. But after that first one, I knew that this was a ministry that needed to be done.
We live in Northeast Iowa and it is about an eight hour drive. At first it was so hard. People hadn't heard of it and convincing them was tough. But we kept trying. Most of the passengers were recently retired people who didn't want to drive that far. But I prayed that God would send me some "youth groups." Then a year ago, in January, I got an email from a church in a small town just south of Rochester, Minnesota. Their youth group had been saving money for three years and wanted to go to the Creation Museum, but they had no idea how to put a bus trip together . . . would I be willing to help them? YOU BET!!!!
So the first week in June 2014, we took our ninth bus group down there and it was all youth and their supervisors. It was fantastic. They told a neighboring church about the trip and then they contacted us and that is the tenth group that we just came back with today. Word of mouth is our best advertising. We have another bus group coming down July 14-15, 2015, comprised of youth groups from two different churches.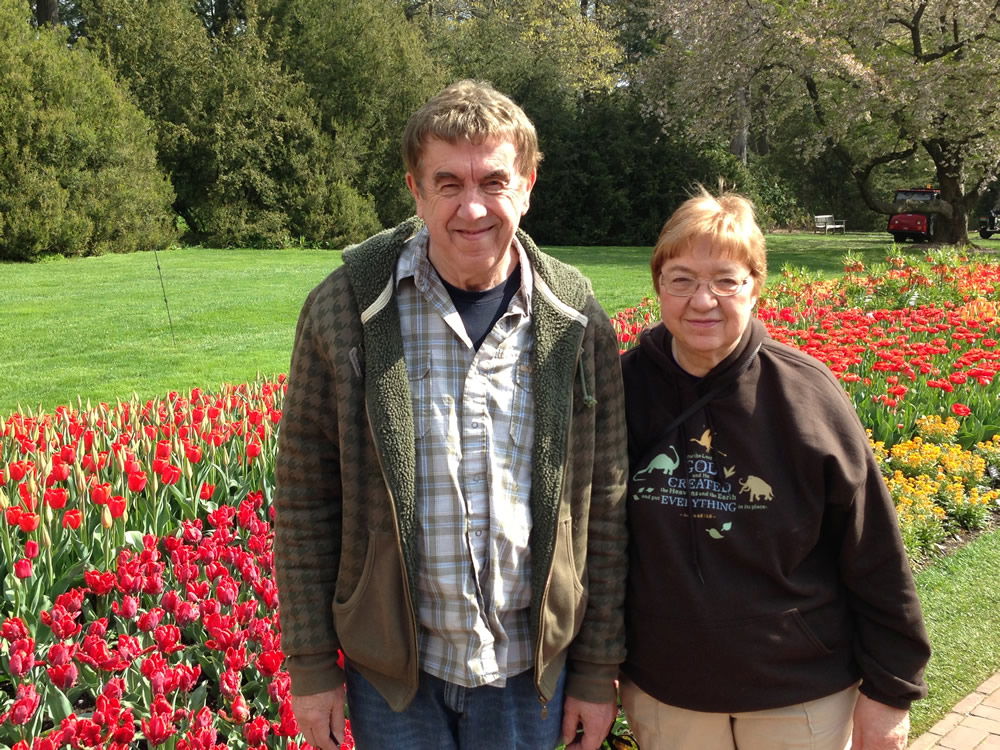 In addition to the bus trips we have taken, we have also guided other people to do the same. We helped one couple from Dubuque, Iowa who took two busloads down. I also got to visiting with a salesman on the phone who was from Michigan. I got on my "soap box" about the Creation Museum and he ended up taking a group down there also. I have never met either of these people, but they helped get the word out.
It seems like God prepared us for this ministry. While we had never done bus trips before, we were convinced that taking people there was important. We are both retired now and have the time it takes to put these trips together. My husband designs all the flyers and business cards and keeps track of the accounting side of things. I have driven all over the state speaking at events and promoting the Creation Museum any way I can. I try to convince people to get on the bus. If they won't do that, I encourage them and tell them what they will see if they were to drive there themselves. It is all about educating people.