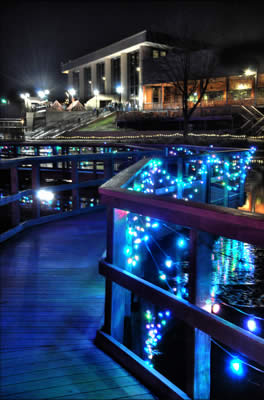 It is never too early (or too late) to plan your
Christmas Town
visit. Start thinking now about when you'll load up the family and drive to the Creation Museum. We suggest that you arrive early, both early in the month and early in the evening to avoid the larger crowds. This year we have an amazing, new program to start each Christmas Town night (except for Friday, December 5, 2014).
Christmas with Ken and Buddy
starts at 4:00 PM in the Creation Museum's spacious Legacy Hall while the outdoor portion of Christmas Town opens up at 5:00 PM.
In Legacy Hall, you will be treated to an amazing time exploring Christmas with Ken Ham and Buddy Davis. You'll laugh, you'll learn, and you'll sing along as Ken and Buddy share that the message of the first Adam and the last Adam (Jesus Christ) is what life and Christmas is all about. You'll see that the Bible's history in Genesis is true and how it relates to the Babe of Bethlehem. You'll also tap your toes and sing along with singer/songwriter Buddy Davis, both solo and when he is joined by Ken on the piano.
Are you worried about dinner? Don't be! There's no need for you to have a hungry family before heading outside at Christmas Town. Not only does Noah's Café have plenty of menu choices, but you'll even find a delicious, complete turkey dinner available for only $6.99!
When you walk outside, you'll be greeted with a spectacular light display. Our grounds crew spends many, many hours each year crafting an amazing panorama of light, color, and motion for you to enjoy.
Your journey through the outdoor Christmas Town experience begins at the Nativity house, which is a replica of a first-century house from the Judean hill country.TheGreek word that is often translated as "inn" more appropriately means "guest room." As we consider this, we are compelled to paint a new picture in our minds' eyes of the circumstances of Jesus' birth and where Joseph and Mary sought shelter because of the census. Not only will you see this structure, but you can read more before you visit.
As you walk through the Garden of Lights, you'll also encounter one of the Magi, a wise man who journeyed to Bethlehem to see "the one who [was] born King of the Jews" and learn of his amazing journey. You'll even have an opportunity to undertake your very own camel ride next to the petting zoo!
Once you're back in the museum you can enjoy a special presentation of The Christmas Star in the Planetarium as you learn about the possible explanations for the "star" that led the wise men to Christ. You might want to think of buying your tickets early in the evening to be sure the time you want to see the show is not sold out. And don't forget about dessert, as you'll have a variety to choose from including pies, donuts, the ever popular Amaizing Grace Kettle Korn, candy, wassail, hot chocolate, and more!
And last, but not least, don't forget to equip your family with solid biblical resources. We will have special Christmas Town deals going on in the Dragon Hall Bookstore, but remember that these deals are sometimes limited to a certain number and only available on site during Christmas Town evenings.