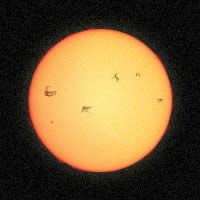 Would you like an opportunity to gaze at the sun? No, don't look at it right now—staring at the sun without proper protection can cause damage to your eyes!  However, if you look through a specially-filtered telescope you can "spot" some amazing things.  We have several of these special telescopes in the Creation Museum's observatory, and during the Sun Spotting programs you can take a look through them. You'll have an opportunity to look for sun spots and solar prominences and ask questions of Answers in Genesis astronomer Dr. Danny Faulkner!
Since this program only takes place if weather permits, tickets are not able to be reserved in advance. If the weather looks good, we'll make tickets available for sale in the morning after the museum opens.
The cost for each program is $5.95 per person. Museum members and pass-holders receive a 10% discount.  The presentation lasts approximately 45 minutes.  As an added bonus, participants in this workshop can receive a discount on our planetarium shows.  When you buy a program ticket at the museum's front desk you may also purchase a scheduled planetarium show ticket for just $4.00, a savings of $3.95!  Learn more about the program and see upcoming dates on the Sun Spotting program page.