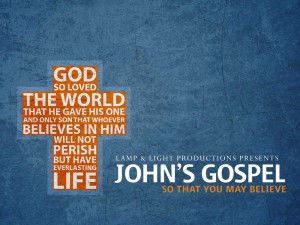 For the last several years, guests at the Creation Museum have been delighted to attend presentations by Matthew Moore, who brings the Word of God to life in his powerful dramatizations of Scripture.  With a master of fine arts degree (MFA) in classical acting from George Washington University, Mr. Moore is an associate professor of theatre at Cedarville University.
Recently guests were treated to an experience straight from the gospels as they enjoyed John's Gospel: So That You May Believe.  This presentation is a 45-minute performance of selected portions from the book of John. See and hear the power of Jesus's teachings, the miracles, the crucifixion, and the resurrection!
Mr. Moore is passionate about what he does, and says,
The Bible is full of the greatest accounts ever told! For years, I've been passionate about helping people have a dynamic encounter with the Bible, bringing its accounts to life in a way that reminds us that the Scriptures are about real people with real emotions. More importantly, those accounts can bring about real change in our lives.
Please see our
website
 for upcoming performance dates. Tickets for these events are only $2 per person! For more information on Matthew Moore's ministry, visit
Lamp & Light Productions
online.