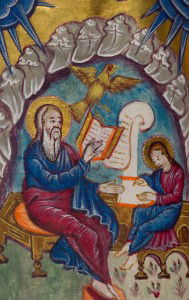 The Creation Museum is pleased to announce the arrival of a new six-month exhibit that highlights the individuals who had a hand in preserving the most important book ever written, the Bible.  This new exhibit—"Preserving the Word: Scribal Practice Through Time"—is made possible thanks to the Museum of the Bible which houses the Green Collection.  This will be our fourth six-month exhibit from the Green Collection, one of the largest private collections of rare biblical texts and artifacts.
Beginning June 5, guests will learn about the scribes and their craft of copying, composing, and recording documents by hand.  Scibes have been present in almost every literate society since writing first emerged in Mesopotamia thousands of years ago.  Thanks to the work of the scribes we have the Bible that is in our hands today.
Be sure to visit the Creation Museum soon to see this part of the 44,000-piece collection on display in the Verbum Domini exhibit. If you have seen the other three exhibits, drop us a card or send an email telling us which has been your favorite.