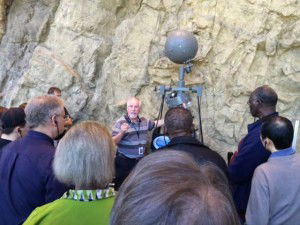 Several days this month you can join astronomer
Dr. Danny Faulkner
for a guided tour of the Creation Museum's astronomy exhibits. You'll learn about our historic planetarium projector—which was used to train NASA's Mercury astronauts—and how it differs from the digital projection technology found in the
Stargazer's Planetarium
. Dr. Faulkner will also provide a detailed explanation of the museum's meteorite collection as well as a closer look at the Johnson Observatory.
Tour participants wear an audio device enabling them to easily hear the speaker. Tickets are just $5.95 for age five and up. Children under age five are free but will not receive an audio device. Learn more on The Heavens Declare tour page. You can even buy tickets online to make sure you'll get the timed tickets you want.
Genesis 1:16 states, "Then God made two great lights: the greater light to rule the day, and the lesser light to rule the night. He made the stars also." On this tour you will discover that, truly, the "heavens declare the glory of God" (Psalm 19:1).
You might also enjoy the Family Dinosaur Tour with Buddy Davis and Dr. David Menton's Life Sciences Tour.