Many families are taking advantage of the 2014 Kids Free promotion (where kids are free with a full-priced paid adult).  One family who came all the way from Texas just shared this with us: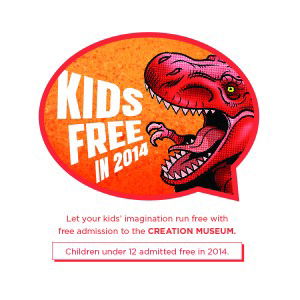 We visited y'all last week as we returned home to Waco, TX from Washington, DC. The drive was looooong, but we enjoyed it so much. The kids complained that they wish we hadn't spent so much time at the Smithsonian and had spent more time at the Creation Museum. Even my 5 and 6 year old (non-readers) understood a great deal from the pictures and graphics. We brought our family of 11, and really appreciated the free kids tickets this year. Thank you so much.
Bring
your
family this year and enjoy Kids Free as well as a
full calendar of programs and events
this summer.  The whole family will have a great time in Buddy Davis's very popular
Creation Adventure workshops
, riding our
camels Gomer and CJ
, or
riding our zip lines
through the trees.