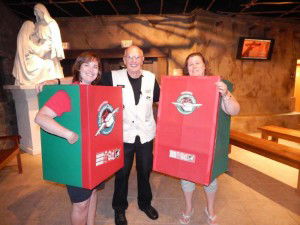 On Saturday, November 2, workers with Operation Christmas Child will be here at the Creation Museum to collect shoeboxes. What's so special about these shoeboxes?
For 20 years about 100 million children in over 130 countries have enjoyed receiving shoebox gifts from Operation Christmas Child (OCC). An outreach of Samaritan's Purse, OCC delivers Christmas gifts including the gospel message to children across the world.
If you bring a shoebox filled with small toys on November 2 to the museum, you will receive a $7 discount for general admission to the museum. Additional members in your party can also get a $7 museum discount for each additional box you bring. The OCC shoebox mascots will be walking around the museum during that day. Two of the mascots visited the Creation Museum earlier this month, and posed with Charlie, a museum staff member.
You can find out more about the entire OCC project on the Samaritan's Purse website.