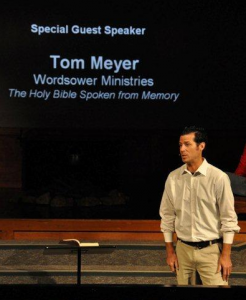 One of our most popular guest presenters, Tom Meyer, returns to the museum the week of July 22–26. Tom will give two presentations daily: first, reciting Genesis 1–11, and second, reciting the entire book of Revelation.
We affectionately call Tom the "Bible Memory Man." The first time we encountered him was back in 2009 when Answers in Genesis conducted a tour of Israel. During an evening program in Jerusalem, our group was mesmerized as he recited the entire book of Revelation from memory! Since then, he has spoken at the Creation Museum each of the past several years.
Tom is a member of Wordsower International Ministries with Jason Nightingale. Along with his wife and new baby, Tom travels extensively, reciting portions and entire books of Scripture to churches and other groups. He also teaches a class on memorizing Scripture at a Bible College in northern California and is the author of the book, Oral Transmission in Judaism and Christianity: A Case for Memorization.
Check out our online event calendar for more information. These special presentations are free with museum admission. Visit Tom's website to learn more about his ministry.