We are excited about a new display located in the lobby of Legacy Hall that promotes Children's Hunger Fund (CHF).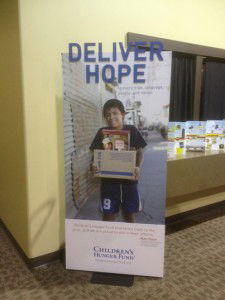 CHF is a gospel-centered compassion ministry that distributes food and other resources to children throughout the world. The fund uses each gift to not only care for physical needs, but also introduces these hungry children and their families to the true hope that is found in Jesus Christ alone.
"Children's Hunger Fund proclaims truth to the poor, and we are proud to join them in their efforts," said Creation Museum President/CEO and Founder Ken Ham.
For more information about Children's Hunger Fund, visit their website or stop by their display in the Legacy Hall lobby.