Photographing Christmas Lights with HDR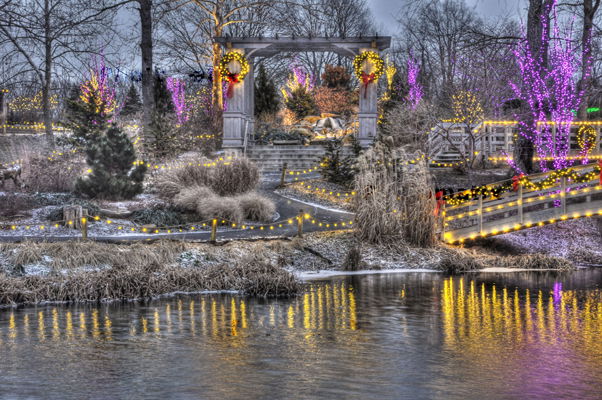 Have you ever tried to photograph Christmas lights, only to get a fuzzy picture? Well, we'd like to help you get it right!
On January 11 & 12, 2013, the Creation Museum will offer a photography workshop led by our resident experts and staff photographers, Marty and Deb Minnard. They will teach a technique called HDR (high dynamic range). This technique takes three images of the same subject, with varying exposures, and processes them together to result in an image with incredible range, image quality, and detail.
On the first day we'll start in the afternoon with some lecture time, and then we'll photograph the Christmas lights at the ideal time in the evening. The next day will be spent working with those images to make them the best they can be.
Don't miss out on this informative time of instruction at the incredible Creation Museum gardens. There will be tens of thousands of lights to shoot. Just imagine!
Needed Items
Digital camera with manual overrides
Sturdy tripod
Warm clothing
Gloves that are thin (so you can feel the camera) or without finger tips
(Recommended) transparent plastic bag to go over camera in case of wet snow or rain
Schedule
Friday
| | |
| --- | --- |
| 2:00 PM | Introduction, orientation, lecture time with Marty and Deb, hands-on instruction |
| 4:30 PM | An early dinner |
| 5:15 PM | Begin to shoot outdoors, intermittent warmup times |
| 7:30 PM | Come in for time of review |
| 8:00 PM | Departure |
Saturday
| | |
| --- | --- |
| 9:00 AM to 5:30 PM | Process images, lunch, individual critique for each of the students |
More Information
Topic: Photographing Christmas Lights with HDR
Date and Time: Friday, January 11, 2:00 PM to 8:00 PM and Saturday, January 12, 9:00 AM to 5:30 PM
Cost: $60
Register by calling Customer Service at (800) 350-3232.