Make plans now to join us as we welcome one of southern gospel's most popular groups, Legacy Five, to the Creation Museum's Legacy Hall on Saturday, September 8, at 7 PM.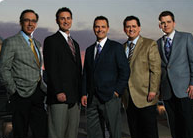 Legacy Five
has established and maintained a firm place at the top of gospel music. Year after year they have been recognized, including two Dove Award nominations and "recording of the year" honors from the Southern Gospel Music Association.
Members of Legacy Five are passing through our region on their way to the National Quartet Convention in Louisville, Kentucky (about two hours from the Creation Museum). The convention, which runs from September 9–15, is expected to draw an estimated 40,000 gospel music fans, representing 40 states and multiple countries. The Creation Museum will have a booth in the exhibit hall.
Before the group heads to Louisville, they will stop by the Creation Museum to host a special show. Tickets to their concert here in the museum's Legacy Hall are only $25 for those 10 years and older, and that price includes admission to the museum for both Saturday and Sunday! Order your tickets in advance by calling Customer Service at (800) 778-3390 to get this special package rate!
This special package rate is only available for advance general admission purchase and is not valid for group reservations or other special discounts and promotions. (The included museum general admission is valid only on September 8 and 9, 2012).