April 19–20 in Legacy Hall at the Creation Museum

We invite you to see the life-transforming truth of the Bible as never before! At Answers for Women you will learn from some of today's most exciting Christian leaders and experience peace-filled, Creator-honoring times of worship.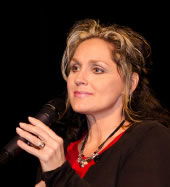 "For the mountains shall depart and the hills be removed, but My kindness shall not depart from you, nor shall My covenant of peace be removed," says the Lord, who has mercy on you. (Isaiah 54:10)

This love note from our Creator and Savior tells me that I can confidently sing praises to Him in any and every situation of my life and that He will be faithful, no matter what! We are called to offer our hearts in praise to Him because He has heard us before we ask and filled the need before we knew it was there. When we understand this and begin to live it out, our hearts will naturally long to praise Him!

Join me as we worship our Creator through singing and studying His Word at Answers for Women,  April 19–20.

– Joetta Schmidt, AfW music leader
Where: Legacy Hall at the Creation Museum (near the Cincinnati Airport)
When: April 19–20, 2012 (Thursday and Friday)
Speakers: Mary Mohler, Georgia Purdom, Ken Ham, Steve Ham, Stacia McKeever, Geri Campbell
Price: Regular $99 (an "early bird" discount is available when you reserve your spot by February 29)
Price includes a buffet lunch and a ticket to the Creation Museum—with a complimentary planetarium showing!