In today's blog we're taking a look at the signs in the Creation Museum and looking forward to the Answers in Genesis Family Conference in July!
Since it would take days (quite literally!) to read every sign in the Creation Museum, we'll bring the signs to you in our new series of blog posts. Today we're beginning with one of the key signs located in the museum's Main Hall. The 7 C's of History is the outline for the museum's walk through biblical history.
7 C's in God's Eternal Plan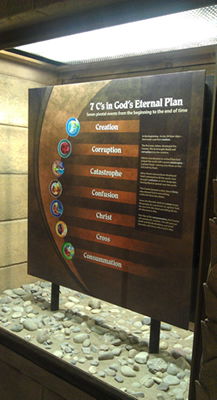 Seven pivotal events from the beginning to the end of time In the beginning–in six, 24-hour days–God made a perfect
creation
.
The first man, Adam, disobeyed the Creator. His sin brought death and corruption into the creation.
Adam's race became so wicked that God judged the earth with a great catastrophe–a global Flood–saving only those on the Ark built by Noah.
When Noah's descendants disobeyed God's command to fill the earth, God brought confusion on their language, forcing them to spread over the earth.
The Creator became a man, Jesus Christ, who obeyed God in everything, unlike the first man, Adam.
Jesus, the Messiah, died on a cross to pay the penalty for mankind's sin against God. He rose from the dead, providing life for all who trust in Him.
One day, at the consummation, the Creator will remake His creation. He will cast out death and the disobedient, and dwell eternally with those who trust in Him.
Proclaiming the Faith—A Family Conference
Make plans now to join us on July 16–20 for the Answers in Genesis Family Conference,
Proclaiming the Faith
. Create unforgettable memories set alongside a backdrop of the scenic Ozark Mountains in Branson, Missouri, one of America's most family-friendly destinations.
Solid biblical teaching, including sessions for children, teens, and adults, will equip you not only to defend but also to boldly proclaim the hope we have in Christ. Conference highlights include: engaging workshops for kids (ages 7–12), special teen track with Mike Riddle, discount tickets for the Sight and Sound Theater (featuring the biblically-based production, Joseph), and free time in the afternoon as well as Wednesday evening to enjoy the many Branson attractions with your family.
Connect with Us
Keep up-to-date with news and events from the Creation Museum on Facebook and Twitter.