We're hearing many great comments about our opening weekend of
Christmas Town at the Creation Museum
. Between last Friday and Saturday we had over 4,000 people attend!
In years past, we've noticed that attendance increases as we get closer to Christmas, so here are five suggestions as you plan your visit to Christmas Town this weekend.
1. Get Here Early
While the "official" start time for Christmas Town is 5:00 PM, we've decided to begin the live drama presentations in Legacy Hall at 4:15. With nearly 1,000 seats available in this new facility, there's plenty of seating available!
Dress warmly. Come early. Last Saturday, the first drama began at 4:15 Legacy Hall with the outdoor events beginning at 5:00. Enjoy! It was all wonderful!!

– Sara S.
2. Eat at Noah's Café
No need to worry about having a hungry family at Christmas Town. There are plenty of menu choices, and Noah's Café even has a special turkey dinner available for only $6.49! There's plenty of hot cocoa available in the café and along the trail in the Garden of Lights!
3. Carpool
Christmas Town is a free event, and parking is free as well. Make sure you fill up your vehicle with friends and family! Since there are a limited number of parking spaces available, get yours by arriving before it gets dark outside. Last week, no one was turned away.
4. Dress in Layers

According to the weather forecast, the low temperatures will be in the upper 20s (Fahrenheit). There's a lot to do, both inside and outside, so make sure you're prepared!
Be sure to see the dramas! Outside are the shepherds, the archeologist, and the wiseman. Inside Legacy Hall are Elizabeth (mother of John the Baptist), Anna (the prophetess in the temple), and the temple guard (bring tissues!).

– Debbie B.
5. Check out the Dragon Hall Bookstore
There are a ton of special Christmas Town deals going on in the Dragon Hall Bookstore. One favorite is Ken Ham and Bodie Hodge's new book,
How Do We Know the Bible Is True?
The list price is $14.99, but the special Christmas Town price is only $2! There is a limit of five per person, and this deal is only available on-site during Christmas Town evenings.
For the most up-to-date information about Christmas Town, be sure to "like" our Facebook page! We look forward to seeing many of you this weekend!
Christmas Town Desktop Wallpapers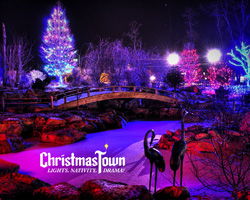 Experience the joy of Christmas Town on your computer! Check out our new free desktop wallpapers.