Yesterday was the first of several days in August where Creation Museum founder, Ken Ham, and dinosaur sculptor/musician, Buddy Davis, provided guests with a full day's worth of concerts, workshops, and "meet and greets."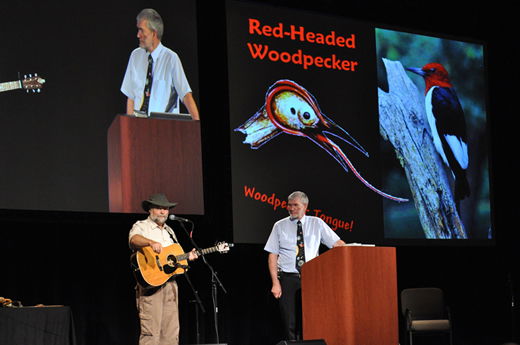 The morning started in the museum's new Legacy Hall auditorium with Ken and Buddy's children's program, "Dinosaurs, Genesis, and the Gospel." Audience members sang along with Buddy and learned answers to questions like "How did Noah get all those animals on the Ark?"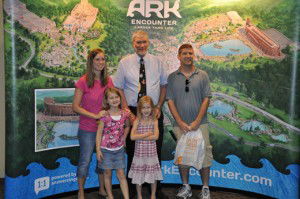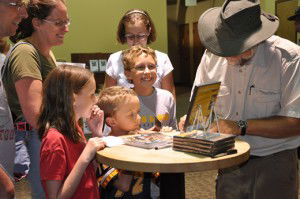 These special presentations are all a part of
Back to School Survival Days
at the Creation Museum. Ken and Buddy will be on-hand for several more of these days including  Thursday and Friday, August 25 and 26, as well as Monday, August 29.
Back to School Survival Days
Weekdays in August!
Special "back-to-school" speaker presentations every weekday.
Special half-price admission all month long (with coupon below).*
Special 10% discount on books, DVDs, food, planetarium shows, and more (see coupon below).*
Special limited-time "sneak peek" room filled with Ark models and information about the upcoming Ark Encounter theme park.
Special features and new exhibits added since the Creation Museum opened are highlighted below.
Make this August the best family time of your summer, and equip your kids and their friends to stand against the onslaught of evolutionism they face every day at school and in the media.
Come to the Creation Museum during our back-to-school special events and bring your loved ones. These special speaker events, concerts, and amazing discounts have never before been offered!
Must-see "Back-to-School" speaker presentations. Don't let your kids go back to school unguarded. Every weekday we are hosting special "back-to-school" prep talks for all ages, elementary through college.
Every student in your family or group gets in at half-price. Plus the accompanying adult gets in for half-price too.
Get 10% off all food, drinks, books, DVDs, and planetarium shows. Never before has the Creation Museum offered this discount in almost every area (see coupon below).
Exclusive behind-the-scenes "sneak peek" at Ark Encounter models and artist drawings. See an actual scale model of the Ark Encounter theme park plus drawings of the other planned attractions and information not available to the general public. Also get the actual location of where the ark is being built by seeing it on an oversize regional map. Limited hours, every weekday during August.
Many special features and new exhibits have been added. The photos below depict just a few of the many changes and additions that have been made to the Creation Museum since we originally opened four years ago.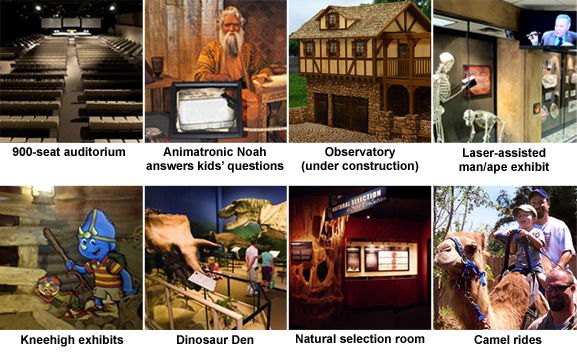 August "Back to School" Coupon
Click on the coupon image below for a full-size, printable version. Bring your printed coupon to get half-price admission for all students, plus up to the same number of adults!
Your coupon will also allow you to get a special certificate good for 10% off other select items, including regularly priced food, drinks, books, etc. Good all weekdays, the entire month of August!
Calendar of Events
The museum opens at 10:00 AM and closes at 6:00 PM all weekdays. Special weekday "back-to-school" presentations and concerts are normally at the following times:
11:00 AM: Special illustrated "kids talk" for elementary children and their parents.
12:00 noon: Relevance of Creation talk for all ages.
1:30 PM: Special illustrated "teens and older talk" for high school and college students and their parents (Legacy Hall).
3:00 PM: Concert by Buddy Davis (Special Effects Theater), or view the newest Buddy Davis adventure video (Special Effects Theater).
Speakers vary by day and include
Ken Ham
, 
Buddy Davis
, 
Dr. David Menton
, 
Bodie Hodge
,
Dr. Jason Lisle
, and others. See 
CreationMuseum.org
for the latest schedule information (subject to change without notice).
Admission Fees
Children (under age 5): Free!
Children (5–12): Normally $14.95 (only $7.50 with coupon above).
Adults (13–59): Normally $24.95 (only $12.50 if accompanying a student with coupon above).
Senior (age 60 and up): Normally $19.95 (only $10 if accompanying a student with coupon above).