Answers Hall

Thanks for all for your suggestions to help us name the new exhibits that show guests the history behind our parent ministry, Answers in Genesis (AiG). The name selected is "Answers Hall." The exhibits not only show the history of AiG and the building of the Creation Museum, but also reveal the future plans of a full-size replica of Noah's Ark that will soon be located about 40 minutes from the Creation Museum. Visit ArkEncounter.com for more information about that project.
Free Book Friday from Master Books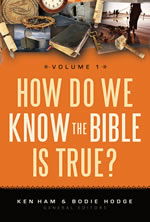 Our friends at Master Books and New Leaf Publishing Group are giving away three copies of Bodie Hodge and Ken Ham's new book, How Do We Know the Bible is True? Visit their blog today for more info!
Radio Station Promotes Creation Museum Trip
We were pleased to come across a write-up from the Moody Radio stations in the nearby state of Indiana. Moody Radio Indiana will be hosting a trip on Tuesday, October 4, 2011.
Interested in organizing a group to visit the Creation Museum? Groups of 15 or more people save nearly 20% off the price of regular admission. See our website for details.
Relic Found in the Portico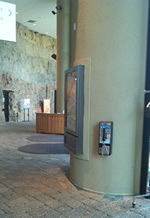 Yesterday's photo of the pay phone in the portico area of the Creation Museum generated scores of comments on our Facebook page. The phone, tucked away on the side of a column near the front entrance has been at the museum since our May 2007 opening, however, many museum staff members were not aware that such a relic existed inside the facility. Thanks everyone for your creative remarks!
Today's Pic
Today's photo comes from the Garden of Eden exhibit. We'll have more information about these fascinating creatures in tomorrow's blog!