"Fun with Fossils" Workshop, July 27 and August 24
Do your children love fossils? Do they wonder what they are and where they came from?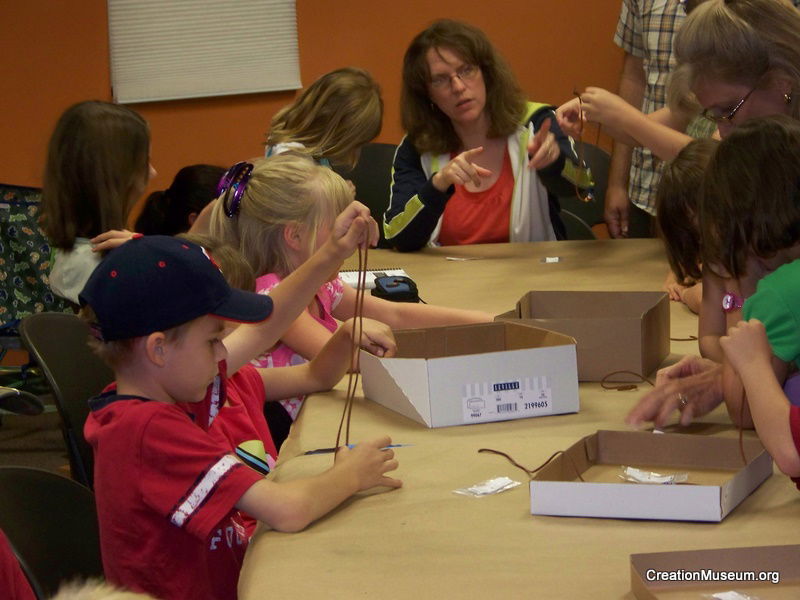 Join us at the Creation Museum for the Answers For Kids workshop, "Fun With Fossils." This captivating program focuses on the importance of fossils and what they teach us when understood from a biblical viewpoint. Every child will get to make a shark's-tooth necklace as a reminder of what they learned. They'll also receive a bag of fossils as a souvenir!
Younger children (four-year-olds through third grade) will enjoy attending "Fun with Fossils, Jr." Mrs. Ruth Carter will conduct their journey through the world of fossils. Grades four through six will join Creation Museum registrar, Stephanie McDorman, for their trip through time.
Tickets are $3.50 with museum admission. Members and Annual Pass holders receive a 10% discount. Parents can join their children on the journey with a free observer's ticket after purchase of a child's ticket. Fun with Fossils will be presented on July 27 and August 24 at 1:30 PM.
Caption the Photo
Leave a comment with your caption for this photo of our ducks. The winner, chosen by museum staff, will receive a copy of the Creation Museum Souvenir Guide.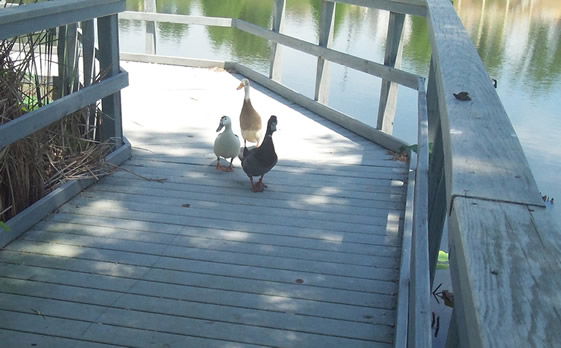 Yesterday's winner is Melissa, who captioned the three mice in our Natural Selection exhibit with the following: "Is the glass half empty or half Phil." Great comments everyone! Congratulations Melissa!
Here's a larger photo of the exhibit from yesterday's photo of the "Natural Selection is Not Evolution" exhibit.
Three Blind Mice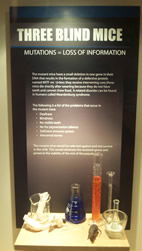 Mutations = loss of information.
The mutant mice have a small deletion in one gene of their DNA that results in the formation of a defective protein named MITF-mi. Unless they receive intervening care, these mice die shortly after weaning because they do not have teeth and cannot chew food. A related disorder, called Waardenburg syndrome, can be found in humans.
The following is a list of the problems that occur in the mutant mice:
Deafness
Blindness
No visible teeth
No fur pigmentation (albino)
Deficient immune system
Abnormal bones
The mutant mice would be selected against and would not survive in the wild. This would eliminate the mutated genes and preserve the viability of the rest of the population.