Here's a last-minute vacation idea that might change your life!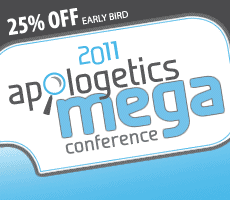 The
2011 Apologetics Mega Conference
will take place just a few minutes on July 18–22 at Florence Baptist Church, located about 20 minutes from the Creation Museum.
The conference begins on Monday afternoon and ends on Friday evening. Conference registration includes admission to the Creation Museum, July 16–24. There will be also be several opportunities throughout the week to visit the museum, including Wednesday evening when the museum will be open extended hours until 8 PM.
The conference, hosted by the Creation Museum's parent ministry, Answers in Genesis, will feature some of today's most popular speakers on creation including the following:
Dr. Charles Ware, President, Crossroads Bible College, Indianapolis, Indiana
Dr. Steven Boyd, Professor of Old Testament and Semitic Languages, The Master's College, Santa Clarita, California
Dr. David DeWitt, Professor of Biology/Chemistry, Liberty University, Lynchburg, Virginia
Dr. Joseph Francis, Professor of Biology, The Master's College, Santa Clarita, California and Liberty University Online
Tim McKenzie, President and Founder of the On Every Word ministry
Additional speakers from Answers in Genesis include Ken Ham (President and CEO of Answers in Genesis); Dr. Jason Lisle (astrophysicist, author, and speaker); Dr. Terry Mortenson (theologian, historian of geology, author, and speaker); Dr. Andrew Snelling (geologist, author, and international speaker); Dr. Georgia Purdom (molecular geneticist, wife, mother, and speaker); Mike Riddle (educational specialist, and speaker); Dr. Tommy Mitchell (physician, author, and speaker); and Dr. David Menton (professor emeritus, Washington University School of Medicine, and speaker).
Attendees will also learn more about the Ark Encounter, located 25 miles south of the Florence Baptist (and also situated off I-75), with groundbreaking late this summer. Sorry, but tours will not be allowed on the Ark's property at this stage.
It's not too late to register online for the Apologetics Mega Conference (though that online deadline is drawing near) at www.2011megaconference.org or call 1-877-244-3370.