Creation Museum guests will have the opportunity to see Geri Campbell perform her one-act play, Eve Remembered, on June 3 and 24, and July 29. Along with her ten-year-old daughter, Mercy, Geri has presented this and other dramas in churches and Christian conferences throughout the United States.
When writing this play, Geri wanted to answer the common question, "If a loving God exists, why is there so much suffering?"
She was burdened to reach hurting people who simply can't see that the reason for our pain lies at the feet of Adam (and the rest of us whom he represented)—not God.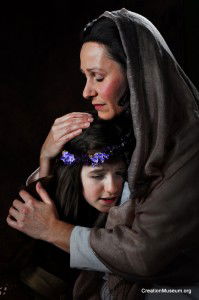 Clearly this question reaches deep into the heart, not just the mind, as Eve Remembered offers a glimpse into what may have happened in Eve's life after she and Adam disobeyed God. In this very personal and emotional portrayal, Eve is wrenched by her suffering, by the animal sacrifices she regularly endures, and by the devastating loss of her son Abel. She blames God, as many people do, but comes to realize that the cause of her distress is her own sin.
Eve's agonized longing to see God fulfill His promise in Genesis 3:15 grips the audience. Geri wants people to understand that "God's promise to Eve—restoration—is available to use today. He made a way for us to come back to Him through the blood of Jesus Christ."
Geri has a long history with drama at the Creation Museum. She visited before the museum ever opened and thought it would be a great location for Christian theater. In 2007 she performed her intense monologue, The Story of Gomer, based on the book of Hosea, and in 2008 she starred with Buddy Davis in the family sing-along Let the Rain Come. During the museum's Christmas Town program in 2009 she presented the drama Elizabeth: A Time for Truth, and in 2010 debuted Eve Remembered at the Answers for Pastors Conference presented by Answers in Genesis.
Geri says that the roles she has portrayed are not "about being a star, but about being a servant." God has blessed Geri's willingness to surrender her gifts as a writer and actress in His service. When Eve Remembered debuted, the audience was brought to tears. This response shows clearly that the first chapters of Genesis have immeasurable power to move people to realize the effects of their own sin and their desperate need for salvation in Christ Jesus.
This special live theater performance will be followed by a short devotional by Dr. Tommy Mitchell, a speaker for Answers in Genesis who seeks to make clear the hope-giving answers found in the pages of Scripture.
Tickets are only $2 (or $10 per family) for this special drama. Eve Remembered will be offered at 3:00 PM on June 3 and 24, and July 29, 2011.
For more information about Geri and her other plays, visit www.in-stepministries.com.