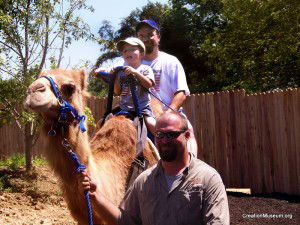 UPDATE: Gomer is taking a break between October 22 and 29, 2010.  Click here for more information.
A report from Creation Museum Registrar Stephanie McDorman
I took my first camel ride today! Gomer, the dromedary camel, graciously showed me around his pen without a single complaint. I think he actually enjoys the exercise!  I did hear through the grapevine that he decided he needed a break one day and actually sat down, but that's the only "incident" since we started the camel rides on July 3rd.
Children, teenagers, and adults were lined up, waiting for their own camel riding experience. It turned out to be a fairly short wait because the staff are very efficient at helping passengers on and off, and the trip around the pen doesn't take long with Gomer's long legs.
Riding a camel is quite different from riding a horse. Of course the most obvious difference is the hump.  Light-weight riders can ride in front, and others ride behind the hump—the weight distribution is important. Two can ride together because Gomer's maximum capacity is around 250 pounds.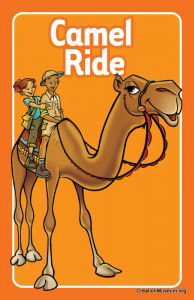 But the hump is not the only difference; Gomer's height and special gait made camel-riding a whole new experience for me.  I can now easily imagine crossing a desert on that high perch, taking in an incredible view of the dunes all around, and swaying back and forth while traveling along at a leisurely pace. If you've ever noticed on television or in movies that camel-riders have a front-to-back swaying motion as they ride, well, that's pretty accurate. One of the children described his ride as "wobbly."  Gomer is very secure and steady on his feet, so I think the child was referring to his body "wobbling" back and forth while riding.
Camel rides are currently offered every day (except Sunday and Wednesday) starting at 1 PM.  Check the daily schedule when you arrive at the Museum as the schedule is subject to change. Rides are subject to weather conditions. Tickets are $5 each. Adult riders must sign a waiver, and a parent/guardian must sign for anyone under 18.