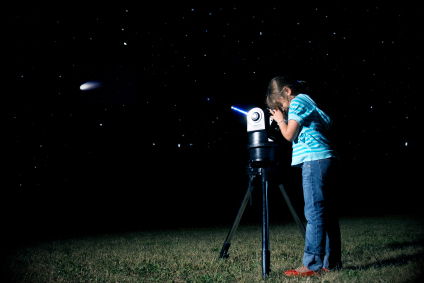 The stars will be shining this fall as two more Stargazer's Nights have been added to the calendar.
There are still spots open for next Friday's program on August 28, so if you're in the area call now to reserve your tickets (the program starts at 8:00)! September and October will each feature an after-hours event exploring some of God's most amazing stellar creations. September 25 the program will start at 8:30 and at 6:00 on October 23.
The heavens do declare the glory of God. Dr. Jason Lisle opens the evening with prayer and a time of devotion. Often it is centered on Psalm 19. The psalm begins with a wonderful description of the universe (God's World), transitions to God's Word (It is trustworthy), and ends with God (O Lord, My Rock and my Redeemer). What better way to begin an activity than with the Lord and in His Word, and pointing to our need as sinners for redemption to the Holy God through Jesus Christ.
After a viewing of the spectacular tour of the solar system Worlds of Creation, Dr. Lisle will take everyone outside to the telescopes and a live tour of the night sky. If the skies are cloudy Dr. Lisle will head inside for a unique teaching session utilizing the state of the art digital projector and domed ceiling of the Planetarium. Either way this will be a one-of-a-kind journey through the cosmos that you will thoroughly enjoy and not soon forget.
The cost for these events is $24.95 per person ($19.95 for members) and is limited to 78 people. To register, please call Customer Service at (800) 778-3390.